By: Delaney Perdue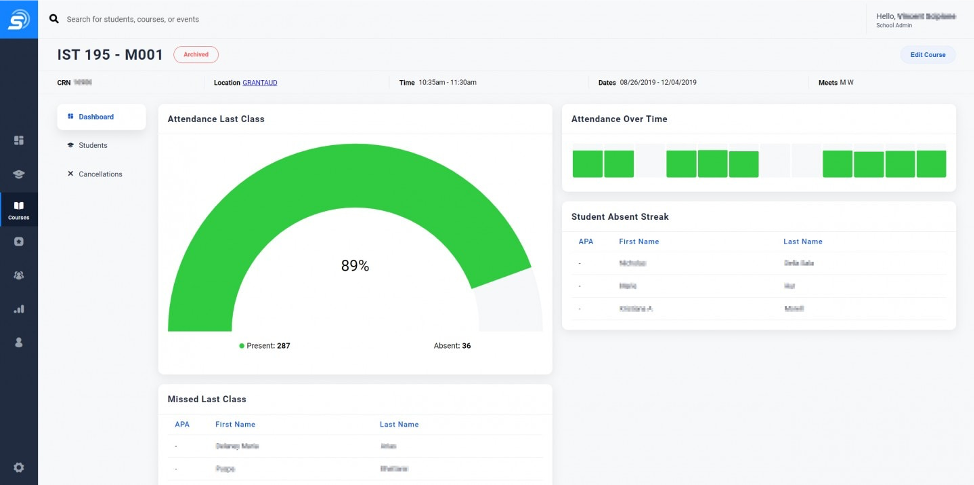 Gone are the days when college students skipped a large lecture class without being noticed, had their friends sign the attendance sheet for them, or secretly ditched class after signing the attendance sheet. As students began to use smarter tactics to skip class, more students fell through the cracks. Little did they know, technology was lurking in the background, ready to catch them.[1]
Upon realizing student athletes were skipping classes and/or tutoring sessions, Rick Carter founded SpotterEDU.[2] Since inception, the app has moved away from being an athlete-focused platform and is now a way to "monitor [all] students' academic performance, analyze their conduct or assess their mental health."[3] SpotterEDU is able to monitor academic performance because the app tracks the students' schedules so that "the system can email a professor or adviser automatically if a student skips class or walks in more than two minutes late. The app records a full timeline of the students' presence so advisers can see whether they left early or stepped out for a break."[4] Not stopping at attendance, SpotterEDU analyzes student conduct and mental health in an attempt to find students who may fall through the cracks at large universities.[5] According to the creator of a similar app, "[t]o help find these students…[the] team designed algorithms to look for patterns in a student's 'behavioral state' and automatically flag when their habits change."[6]
By using SpotterEDU or similar technologies, a college or university can "[c]reate scenarios that trigger a defined action to create automations that fit [the school's] needs."[7] The designer of a similar app (mentioned above) elaborated on the use of triggers, saying, "students who deviate from [their] day-to-day campus rhythms are flagged for anomalies, and the company then alerts school officials in case [the school wants] to pursue real-world intervention."[8]
Now a nationwide phenomenon in use at over 40 colleges and universities,[9] SpotterEDU tracks students by placing beacons smaller than a deck of cards via Bluetooth in classrooms, cafeterias, lecture halls, auditoriums, and dormitories.[10] As soon as the phone connects to a Bluetooth beacon, the student is registered to be in that location.[11] Currently, students do not know exactly what SpotterEDU sensors look like.[12] Once that data is collected, according to a recent probe by UNC Chapel Hill, the students' location data is stored and retained in backup for 31 days.[13]
There are obvious upsides for colleges, students, and professors to this tracking technology.[14] Colleges and universities can tangibly provide board members and parents with proof that students are attending classes and participating in lectures.[15] Students can track their attendance with ease and simplicity in the app.[16] Professors can efficiently track attendance and reward students who attend and stay for a full class.[17]
Problems regarding storage and potential breaches of stored information are some of the primary concerns that plague this voyeuristic technology.[18] Concerns should be raised about potential legal protections of the data collected through SpotterEDU and similar apps.[19]
The influx of data collected on devices has led to a push for consumer laws that cover potential breaches, cyberattacks, and unauthorized sharing.[20] However, new technology can develop quickly and the law has difficulty catching up.[21] According to the Council on Foreign Relations, "[r]ather than a comprehensive legal protection for personal data, the United States has only a patchwork of sector-specific laws that fail to adequately protect data. Congress should create a single legislative data-protection mandate to protect individuals' privacy."[22]
The solution to the ever-growing attendance problem in college classrooms is here, but it invites a big question: are the legal and privacy issues raised by technology that constantly tracks the location of students worth paying the price?[23] Colleges and universities across America think so.[24]
[1] See Mitch Daniels, Someone is Watching You, Wash. Post (Mar. 27, 2018), https://www.washingtonpost.com/opinions/its-okay-to-be-paranoid-someone-is-watching-you/2018/03/27/1a161d4c-2327-11e8-86f6-54bfff693d2b_story.html?noredirect=on.
[2] See Drew Harwell, Colleges Are Turning Students' Phones Into Surveillance Machines, Tracking The Locations Of Hundreds Of Thousands, Wash. Post (Dec. 24, 2019), https://www.washingtonpost.com/technology/2019/12/24/colleges-are-turning-students-phones-into-surveillance-machines-tracking-locations-hundreds-thousands/.
[3] Id.
[4] Id.
[5] See id.
[6] Id.
[7] Student Body, SpotterEDU, https://spotteredu.com/student-body.
[8] Harwell, supra note 2.
[9] See Paul Armstrong, Is Your Child's University Tracking Their Phone? Probably. Forbes (Dec. 26, 2019), https://www.forbes.com/sites/paularmstrongtech/2019/12/26/is-your-childs-university-tracking-their-phone-probably/#4f4cbd3664d6.
[10] See Bill Toulas, U.S. Universities are Tracking the Whereabouts of their Students, TechNadu (Dec. 26, 2019), https://www.technadu.com/u-s-universities-tracking-students-locations/88534/; see also Harwell, supra note 2.
[11] See Harwell, supra note 2.
[12] See id.
[13] See Hannah McClellan, How UNC Got the Tech to Track Men's Basketball, Football Players' Class Attendance, Daily Tar Heel (Oct. 17, 2019), https://www.dailytarheel.com/article/2019/10/unc-athletics-launches-spotter-edu-bluetooth-beacon-tech-to-track-football-mens-basketball-players-class-attendance.
[14] See Daniels, supra note 1.
[15] See Harwell, supra note 2.
[16] See id.
[17] See id.
[18] See Armstrong, supra note 9.
[19] See id.
[20] See 2019 Consumer Privacy Data Legislation, Nat'l Conf. of State Legis. (Jan. 3, 2020), https://www.ncsl.org/research/telecommunications-and-information-technology/consumer-data-privacy.aspx.
[21] See Ray K. Harris and Scott L. Altes, The Law is Struggling to Catch Up to Data Collection Technologies, Morning Consult (Feb. 27, 2019), https://morningconsult.com/opinions/the-law-is-struggling-to-catch-up-to-data-collection-technologies/.
[22] Nuala O'Connor, Reforming the U.S. Approach to Data Protection and Privacy, Council on Foreign Relations (Jan. 30, 2018), https://www.cfr.org/report/reforming-us-approach-data-protection.
[23] See Armstrong, supra note 9.
[24] See Daniels, supra note 1.
image source: https://www.washingtonpost.com/technology/2019/12/24/colleges-are-turning-students-phones-into-surveillance-machines-tracking-locations-hundreds-thousands/