From Lynching to Livestreams: Trauma Porn and the Historic Trivializing of Black Death
By Danielle M. Taylor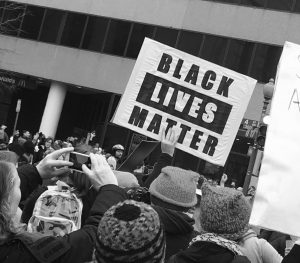 The Grio defines Trauma Porn as "any type of media – be it written, photographed or filmed – which exploits traumatic moments of adversity to generate buzz, notoriety or social media attention".[1] In the age of technology, daily portions of such media are readily available and often presented without warning. This is the very reason that, on May 26, 2020, the morning after his death at the hands of now former Minneapolis police officer, Derek Chauvin, George Floyd became a household name. The nearly nine minute long cellphone video capturing Floyd's pleas for his life and cries for his mother went viral overnight. Many people, myself included, witnessed a man die before so much as having their morning coffee.
The video of Floyd's slow death was shown on news stations across the world, the homepage of search engines, and on social media platforms like Facebook, Instagram, and Twitter. For some, the eight minutes and forty-six seconds that George Floyd laid on the ground with Chauvin's knee pressing into his neck was an awakening to the motivation behind the Black Lives Matter movement. However, for many Black people, these videos are not informative, they are terrorizing. The viral clips are always the same, but with different names and faces – Rodney King in 1992, Eric Garner in 2014, and Tamir Rice four months later, Walter Scott in 2015, Alton Sterling in 2016, and Philando Castile the following day. This year alone includes Ahmaud Arbery, Jacob Blake, and too many others. The American Psychological Association reports that racialized groups battle higher rates of post-traumatic stress disorder, compared to White Americans.[2] According to the National Institute for Mental Health, factors that increase the risk of PTSD include: living through dangerous events and traumas; seeing another person hurt, or seeing a dead body; and feelings of horror, helplessness, or extreme fear.[3] The continual viewing of videos and images of Black bodies being mercilessly assaulted and murdered, coupled with the knowledge that society does not often punish those actions, unquestionably satisfies those risk factors. As the numbers rise and the names increase, the question we must ask is whether the awareness that these videos bring outweighs the trauma that they continually inflict on already suffering communities.
It is necessary to underscore that this country's obsession with Black pain and death predates the internet.[4] Long before the deaths of Black people were social media click bait, lynchings were arranged as social gatherings.[5] From 1882-1968, 4,743 people were lynched in the United States, and 3,446 (72.7%) of them were Black.[6] An overwhelming majority of these lynchings took place in the South[7] and were treated as celebrations. Weeks before these planned lynchings, the "event" would be advertised in local papers as an invitation for people to come from all over, not just to bear witness to black death, but to eat and socialize while the victim was tortured, and take pictures for postcards after the victim had been killed and the body had been burned.[8] On-lookers were even allowed to take home a souvenir, usually a piece of rope, or a piece of the victim's flesh or bone.[9] These organized lynchings were designed to "humiliate and inflict pain and suffering on Black bodies".[10] They were a "method of social and racial control" used to "terrorize Black Americans into submission"[11] and deter them challenging white supremacy[12]. Today, the ease with which the public is served, and allowed to consume, videos depicting "police brutality and vigilante murders [serves as] an extension of that tradition."[13]
Shortly after George Floyd's death, another video surfaced – that of a ten-year-old black boy named Eliah. Eliah was shooting hoops in the driveway of his parents' home in Trumbull, Connecticut when a police car rode down the street behind him. The video depicts Eliah noticing the police car and quickly hiding behind a car parked in the driveway. He can then be seen waiting to ensure that the police were gone before he returns to innocently playing. In opening up about the now viral video, Eliah's father, Stacey Pierre-Louis, shared that when he asked his son why he did what he did, Eliah responded, "[b]ecause they killed George Floyd".[14]
There is a popular, and admittedly understandable, argument that posting and sharing videos exposing violence against Black bodies is a "necessary evil".[15] They are imperative, many argue, not just to create awareness and invoke public outcry, but to hold perpetrators – whether they be police officers, vigilantes, or otherwise – accountable. This is an argument that also predates the internet. In 1955, Mamie Till-Mobley summoned local and national news sources to see the body of her 14 year old son, Emmett, after he had been kidnapped, tortured, mutilated, and drowned by two white men for allegedly whistling at a white woman.[16] 60 years later, Emmett's accuser admitted that she lied about the encounter.[17] This admission is seemingly forgotten, but what has echoed through time is Mamie Till's decision to have an open casket at Emmett's funeral, stating, "I think everybody needed to know what had happened to Emmett Till".[18]
65 years after the barbaric murder of Emmett Till and the acquittal of his killers, it is clear that the argument for putting Black death on display for the sake of justice is shaky at best. The frequency with which violence still occurs, videos go viral, and victims' names become popular hashtags, far surpasses the slow, rarely occurring issuance of repercussions. In contrast, the agenda of fear and submission that viral images depicting Black death push back onto the Black community is solid and heavy hitting.
I will not argue that we ought to stop pulling out our phones when we see the police acting unlawfully, or see citizens taking the law into their own hands, rather I make a plea that we offer these videos more reverence. I ask that we consider how the long-standing history of violence against Black bodies allows these images to be shared and consumed with an ease that is incredibly alarming. I ask that we recognize the impact these videos have and do so for the sake of the legacy of the victims and their families, the psychological health and safety of Black America, and for ten-year-old Eliah.
[1] Blue Telusma, Before You Share 'Trauma Porn' Videos on Social Media Consider These Critical Things, The Grio (Apr. 4, 2019), https://thegrio.com/2019/04/04/nipsey-hussle-trauma-porn-social-media-blue-telusma/.
[2] See Diana Doung, Videos of Shootings Are a "Sick Sort of Voyeurism," Can Cause PTSD, Healthing.Ca (June 12, 2020), https://www.healthing.ca/mental-health/somatics-how-watching-trauma-manifests-in-your-body.
[3] National Institute of Mental Health, Post-Traumatic Stress Disorder (last revised May 2019), https://www.nimh.nih.gov/health/topics/post-traumatic-stress-disorder-ptsd/index.shtml#part_145372.
[4] See Ashlee Marie Preston, Sorry, Consuming Trauma Porn Is Not Allyship: Why Aren't Black victims afforded the same dignity in death as white victims?, Marie Claire (June 9, 2020), https://www.marieclaire.com/politics/a32802688/stop-sharing-trauma-porn-black-deaths/.
[5] See id.
[6] History of Lynchings, NAACP (2020), https://www.naacp.org/history-of-lynchings/.
[7] See id.
[8] See Preston, supra note 2.
[9] See id.
[10] Id.
[11] James Lartey and Sam Morris, How White Americans Used Lynchings to Terrorize and Control Black People, The Guardian (Apr. 26, 2018, 2:00 PM), https://www.theguardian.com/us-news/2018/apr/26/lynchings-memorial-us-south-montgomery-alabama.
[12] See Preston, supra note 2.
[13] Id.
[14] Caught on Camera: Young Black Boy Playing Basketball Hides as Police Drive Past, NBC 12 (July 1, 2020, 6:15 AM), https://www.nbc12.com/2020/07/01/caught-camera-young-black-boy-playing-basketball-hides-police-drive-past/.
[15] Alisha Ebrahimji, Some Say Sharing Videos of Police Brutality Against Black people is Just 'Trauma Porn', CNN (Aug. 25, 2020, 2:00 PM), https://www.cnn.com/2020/08/25/us/police-brutality-videos-trauma-porn-trnd/index.html (quoting Attorney S. Lee Merritt, one of the attorneys representing the family of Ahmaud Arbery).
[16] See DeNeen L. Brown, Emmett Till's Mother Opened His Casket and Sparked the Civil Rights Movement, The Washington Post (July 12, 2018, 3:44 PM), https://www.washingtonpost.com/news/retropolis/wp/2018/07/12/emmett-tills-mother-opened-his-casket-and-sparked-the-civil-rights-movement/.
[17] See id.
[18] Id.
Image Source: Danielle M. Taylor, Jan. 21, 2017, Black Lives Matter, Women's March in Washington D.C.