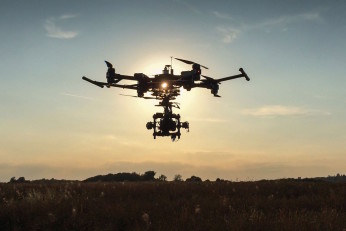 By: Curtis Hazelton,
In our society, it makes perfect sense for one to be accountable for his or her actions, so why should unmanned aircrafts be any different? The Department of Transportation and the Federal Aviation Administration have recently proposed a possible fix to this accountability issue.
Traditionally, unregistered aircrafts (manned or unmanned) could fly up to 600 feet above ground level, a rather empty section of the skies, where they were unlikely to fly into anything.[1] Although600 feet above ground level seems spacious fordrone users, not every drone user flies their drone within the 600 feet fly-zone nor do they follow the guidelines of drone-free locations. According to Department of Transportation Secretary, Anthony Foxx, "Registration will help us enforce the rules against those who operate unsafely, by allowing the FAA to identify the operators of unmanned aircraft."[2] Regulation of the traditionally unregistered aircraft may make it easier to address the important issues of insurance and liability.
The increase of personal drone purchase and operation in the United States has caused many problems.The FAA stated that so far in 2015, pilots reported unsafe activity by unmanned aerial vehicles about 100 times a month.[3] In July, 5 "unmanned aircraft systems" prevented California firefighters from dispatching helicopters with water buckets for up to 20 minutes over a wildfire that roared onto a Los Angeles-area freeway, burning out cars.[4] During the second round match of the U.S. open between FlaviaPennetta and Monica Niculescua drone flew over the stadium and crashed into the stands. Subsequently, the match was stopped for a period while officers examined the drone and the operator arrested for reckless endangerment and operating a drone in a New York City public park outside of prescribed area.[5] The aforementioned situations highlight the need to impose liability on drone operators for accidents caused by drones.
Although some people are wary about government regulation, the registration proposal by the FAA and DoT could be the best way to ensure that drones and other unmanned aircraft are used safely. Though the Department of Transportation is still working to finalize their efforts to require drone registration before the holiday season, drone users, new and old, should be on the lookout for a change in legislation.
Photo Source: http://skift.com/wp-content/uploads/2015/10/travel-channel-drone-australia.jpg
[1] Jordan Golson, The Feds Want a National Drone Registry by Christmas,
Wired (Oct. 19, 2015, 2:28 PM) www.wired.com/2015/10/the-feds-want-a-national-drone-registry-by-christmas/.
[2]Id.
[3] Renee Marsh and Ben Brumfield, U.S. announces task force aimed at mandatory drone registration, CNN (Oct. 19, 2015 6:11 PM)www.cnn.com/2015/10/19/politics/drone-registration-task-force-announced/index.html
[4]Id.
[5] Laura Wagnor, Drone Crash At U.S. Open; New York City Teacher Arrested, National Public Radio (Sep. 4, 2015, 2:24 PM) www.npr.org/sections/thetwo-way/2015/09/04/437539727/drone-crash-at-u-s-open-new-york-city-teacher-arrested.