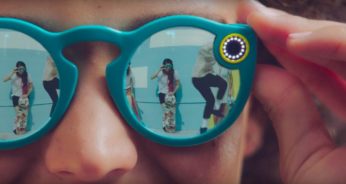 By: Nick Mirra,
When Google released its Google Glass platform in April of 2012 , the market was shaken by such a new and exciting innovation.[1] The glasses were touted to be innovative and invaluable to its users through features including: weather forecasting, reminders, GPS, taking photos, and recording video, among many others.[2] Ultimately, Google Glass fizzled out due to its expensive pricing structure and low sales.[3] Because Google vacated the market segment, (with the exception of a few less-publicized offerings in development) the opportunity to develop glasses-based tech was once again wide open.[4]
With the introduction of Spectacles, Snap Inc. (formerly known as SnapChat) is attempting to capture what Google and its competitors were never able to do.[5] Snap Inc.'s new product has streamlined the functionality of their smart eyewear product into something simple: glasses with an easy-to-use camera that photographs what you see.[6] Snap Inc. began their company as Snapchat, a photo sharing app which displayed photos for up to 10 seconds before the pictures vanished forever.[7] The brand's Spectacles will be the first time the software company has ventured into the realm of hardware.[8]
Spectacles are set to retail for $130 which will make them accessible to most consumers who have a legitimate interest in them.[9] While it is impossible to forecast exactly how many units will sell, it is almost certain that more units of Spectacles will be sold than of Google Glass because of the significantly lower retail price.[10] With the potential to sell to the masses, familiar concerns of privacy that were raised by Google Glass are resurfacing at a rapid pace.
Snap Inc. has taken at least one step to safeguard against the privacy concerns. In anticipation of the discomfort that a wearable camera may cause the public, the company decided to place a ring of led lights on the front frame of the glasses that illuminate when the glasses are recording.[11] Even though the light ring is present, what is stopping someone from disabling it or covering it with a piece of tape? While that is a measure which may put some at ease, many members of the public may remain uncomfortable knowing that people are walking around with cameras pointing at them.
In response to various technological advancements, the expectation of privacy has evolved more frequently in the past decades than in any other period in history.[12] Prior to the digital age, the right to privacy was a more straightforward – albeit still complex – concept.[13] Now that the market is becoming saturated with wearable technologies such as Snap Inc.'s Spectacles, questions of privacy are popping up more than ever.[14] What are the consequences of constantly pointing a camera at everyone you see?
Google Glass faced a similar issue by having a camera mounted on the platform.[15] Glass was met with immense social opposition, including the product being banned from certain restaurants, movie theaters and other public venues.[16] The root of the issue stems from social discomfort with having a camera pointing everywhere you are looking.[17] Courts may soon be confronted with the issue of someone wearing the glasses in a setting which has legitimate expectations of privacy. What are the implications of someone wearing a head mounted camera in a bathroom or locker room? Why would it be okay to wear glasses that have a camera, but not walk in brandishing a standard handheld digital camera and pointing it at people?
While the concept of wearable technology is gaining traction and popularity, it is evident that the legal system needs to adapt to respond to the new issues. Perhaps it will require a lawsuit to bring these specific issues to light, but if Spectacles are wildly popular, a lawsuit is likely in the near future. Snap Inc. is basing their entire product on the one aspect of Google Glass that made the public uncomfortable. It is a head mounted camera that can be discreetly actuated. If someone walked into a bathroom with these glasses on, would you be comfortable?
[1] See The History of Google Glass, Glass Almanac, http://glassalmanac.com/history-google-glass/ (last visited 9/26/2016).
[2] See Evan Dashevsky & Mark Hachman, 16 Cool Things you can do with Google Glass, PC Mag, http://www.pcmag.com/slideshow/story/308711/16-cool-things-you-can-do-with-google-glass (last visited Sep. 26, 2016).
[3] See Jim Edwards, Google Ends Sale of Google Glass, Business Insider, http://www.businessinsider.com/google-ends-sales-of-google-glass-2015-1 (last visited Sep. 26, 2016).
[4] See Paul Lamkin, The Best Smartglasses 2016, Wareable, http://www.wareable.com/headgear/the-best-smartglasses-google-glass-and-the-rest (last visited Sep. 26, 2016).
[5] See Josh Constine, The Hopes and Headaches of Snapchat's Glasses, Tech Crunch https://techcrunch.com/2016/09/24/more-than-just-specs/ (last visited Sep. 25, 2016).
[6] See Id.
[7] See Margaret Rouse, Snapchat, Search Mobile Computing, http://searchmobilecomputing.techtarget.com/definition/Snapchat (last visited Sep. 27, 2016).
[8] See Supra note 5.
[9] See Id.
[10] See Supra note 3. (Stating it is speculated that Google only sold around 10,000 units of Google Glass).
[11] See Supra note 5.
[12] See e.g., Heather B. Repicky, Reasonable Expectations of Privacy in the Digital Age, Nutter, http://www.nutter.com/Reasonable-Expectations-of-Privacy-in-the-Digital-Age-07-09-2012/ (last visited Sep. 27, 2016) (Discussing the concerns at the "increasingly complex intersection of privacy and technology).
[13]The Evolution of the Concept of Privacy, EDRi, https://edri.org/evolution-concept-privacy/ (last visited 9/27/2016).
[14] See id.
[15] See Jake Swearingen, How the Camera Doomed Google Glass, The Atlantic, http://www.theatlantic.com/technology/archive/2015/01/how-the-camera-doomed-google-glass/384570/ (last visited Sep. 26, 2016).
[16] See Alyssa Newcomb, From 'Glassholes" to Privacy Issue: The Troubled Run of the First Edition of Google Glass, ABC News, http://www.consumerwatchdog.org/story/glassholes-privacy-issues-troubled-run-first-edition-google-glass (last visited Sep. 26, 2016).
[17] See id.
Photo Source:
http://1u88jj3r4db2x4txp44yqfj1.wpengine.netdna-cdn.com/wp-content/uploads/2016/09/Snapchat-Spectacles-2-930×495.jpg