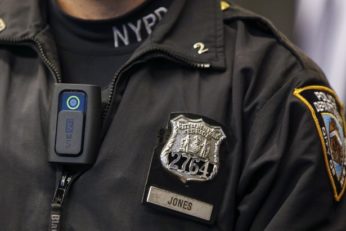 By: Sophia Brasseux,
According The Guardian's police killing database, at least 818 people have been killed by police officers since January 1, 2016.[1] Many of these deaths have made major waves in the media, like Freddie Gray and Alton Sterling; while countless others have gone largely unnoticed.[2] Although it is hard to say whether police brutality is actually on the rise or if media is just making such brutality more apparent, it has been clear that Americans are taking note of this unfortunate trend. Organizations such as Black Lives Matter have gained significant momentum within the past year in regards to drawing attention current issues with to police brutality.
State governments have taken notice to these movements and are responding in a variety of ways. One is an increased utilization of body-worn cameras. As of August 2016, forty-two of sixty-eight major cities have implemented body-worn camera programs.[3] In response to the outcry for increased use of body-worn cameras after the shooting of Michael Brown in Ferguson, Missouri, President Obama has proposed $75 million for body-worn cameras to be disbursed in state-fund matching program, spanning over three years.[4]
One of the greatest proponents of the movement towards having more body cameras on the street has been the desire for transparency.[5] Logically, transparency would go hand in hand with accountability of police departments, but President Obama has stated that these cameras are "not a panacea" and that the current law enforcement and judicial structure may pose obstacles.[6] A major issue has been that just because police officers are wearing, or supposed to be wearing cameras, it does not necessarily mean the public has access to that footage.[7] But, is that really something the public should have access to?
Several states have been hesitant about giving the public even minimal amounts of access. In June, the California Assembly voted down a bill that would allow public access to police body-worn camera footage.[8] However, assemblyman Bill Quirk, who wrote the bill, stated, "to not release this is a great insult to the idea that body-worn cameras increase trust in police departments."[9]
Several other states have followed suit by either denying legislation that would allow public access to this footage, or passing legislation to specifically keep this footage out of the hands of the public, such as recent legislation passed in North Carolina.[10] Rationale for the bill included efficiency concerns and uncertainty about the level of discretion police should have in regards to what footage gets released and to whom.[11] Officer Jeffrey Smyth of the Burlington Police Department noted several safeguards the bill offered, such as not allowing "nosy neighbors" to request footage when they notice officers entering homes their neighborhoods.[12]
Officer Smyth only lightly touched on what has actually been a significant factor behind states' reservations about releasing body-worn camera footage to the public. While there has been a great push for transparency, there has also been an equally significant push for the protection of individuals' privacy rights. Theoretically, police are supposed to have their cameras recording while on calls, which may include instances ranging from speaking with victims of sex crimes, entering personal residences, to even surveying the scene of suicides. [13]
Police are there for some of the most intimate and painful times in people's lives, so when calling for complete police transparency and for public access to this type of footage, it is important to take a step back and consider where the right to privacy of victims, individuals, and third parties kicks in. Which, if any, police interactions are considered private? Can the Fourth Amendment right to privacy be extended to offenders as well as victims of crime?
Many states, such as California and New York, are still struggling with these issues in their attempts to pass body camera transparency legislation, but Washington D.C.'s newly proposed law might be a major national breakthrough.[14] Mauriel Bowser, the mayor of Washington D.C., has previously suggested keeping the footage from these cameras exempt from the Freedom of Information Act requests.[15] Her opinion was reflected in legislation she submitted in early September, which included a broad exemption to not release footage of any assaults as well as several other means of limiting the footage to which individuals would have access.[16] Bowser's plan would allow private individuals to have access to footage from areas that courts have already held there is little expectation of privacy, such as the outdoors on street corners, but footage from within private residences would not be so readily available to the public.[17]
These limitations have been criticized for running counter to the goal of transparency.[18] Bowser's deputy mayor for public safety, Kevin Donahue, has responded to these criticisms by emphasizing that the regulations are meant to prevent third parties from getting ahold of the footage and then putting it on YouTube or the news.[19] Donahue noted that victims of assaults have already have already been violated and Bowser is hesitant to put such victims at risk of being violated further by a third-party individual by giving the public access to their private matters. [20]
While these issues have not been entirely solved yet, it is important to note that there is going to have to be a trade-off somewhere. Yes, transparency and accountability of our police forces are important, especially in light of many recent tragic events, but what price are citizens willing to pay? Americans have tightly held the right to privacy and courts have resisted trammeling that right. How much of that right are we willing to let go to meet the objectives of police accountability? Can a piece of legislation, such as D.C.'s newly proposed law, strike a balance?
[1] See The Counted: People Killed by Police in the U.S. The Guardian, https://www.theguardian.com/us-news/ng-interactive/2015/jun/01/the-counted-police-killings-us-database.
[2] See id.
[3] See Ray Sanchez, Police Shootings Highlight Concerns about Body Cameras (Aug. 4, 2016), http://www.cnn.com/2016/08/03/us/police-body-cams/.
[4] See id.
[5] See id.
[6] Id.
[7] See id.
[8] See Liam Dillon, Police Body Camera Transparency Bill Voted Down, LA Times (June 30, 2016), http://www.latimes.com/la-pol-sac-essential-politics-california-police-body-camera-legislature-htmlstory.html.
[9] See id.
[10] See Natalie A. Janicello, Body Camera Legislation in North Carolina Seen as a Blow to Transparency, Times-News (July 5, 2016), http://www.govtech.com/policy/Body-Camera-Legislation-in-North-Carolina-Seen-as-Blow-to-Transparency.html.
[11] See id.
[12] See id.
[13] Maggie Ybarra, Police Body Cameras Raise Privacy Concerns, The Washington Times (May 12, 2015), http://www.washingtontimes.com/news/2015/may/12/police-body-cameras-raise-privacy-concerns/.
[14] Aaron C. Davis, D.C. Mayor's Plan Would Limit Access to Police Body Camera Footage, The Washington Post (Sep. 9, 2015), https://www.washingtonpost.com/local/dc-politics/dc-mayor-proposes-law-to-keep-police-body-cameras-from-creating-violence-voyeurism/2015/09/09/aecf363a-5728-11e5-b8c9-944725fcd3b9_story.html.
[15] See supra 12.
[16] See supra 13.
[17] See id.
[18] Id.
[19] Id.
[20] Id.
Photo Source:
https://cdn.theatlantic.com/assets/media/img/mt/2014/12/RTR4GL8W/lead_large.jpg