By Anna Hargett
Initial Congressional investigations of the Big Tech companies (Google, Facebook, Apple, and Amazon) started off as a bipartisan effort, with Democrats focusing on the antitrust issues and Republicans targeting bias concerns. [1] However, recent Congressional hearings evidence the partisan divisions that have delayed solutions to the issues.[2]
As Democrats work to overhaul antitrust laws that have not materially changed in 50 years, Republicans on the House Judiciary Committee withdrew support from a report that did not include recognition of the conservative anti-bias claims. [3] Republicans did not favor the increase in regulations for the antitrust overhaul amidst fear that further regulations could hamper innovation.[4]
Although the report did not receive support from the Republican House Judiciary Committee members, the Democratic staffers published the findings in a 449-page report. Upon release, the stock market reacted neutrally if not positively, with three out of the four companies' mentioned stock prices rising the day after the release.[5] Overall market sentiment points to Big Tech's power remaining unchecked.[6]
Aside from antitrust issues, Congress recently sparred with Big Tech executives over legal liability protection from their content moderation decisions, located in Section 230.[7] Republicans claim that the shield covers the firms from claims of bias by over-policing conservative posts, while Democrats state that the executives are not doing enough to "remove harmful content."[8] Both parties hope to rework Section 230 to also include a national digital privacy law.[9]
Despite the bipartisan efforts that persisted throughout the summer, this hearing ultimately let executives off the hook without any solution or reprimand. The executives requested a "clearer roadmap" from the Congressional leaders.[10]Instead of focusing on policy efforts, the lawmakers attacked each other through questions posed to the Big Tech executives.[11] Ultimately, the hearing allowed the public to observe the executives squirm under pressure and offer meager promises of increasing transparency in the future.[12]
In addition to issues of antitrust and censorship, Big Tech has also faced scrutiny during this election season in reaction to its political advertising rules.[13] Both campaigns spent hundreds of millions of dollars on Facebook and Google ads, even though Facebook stated in September that it would not run political advertising during the week of the election.[14]While attempting to regulate the political ads according to its policies, Facebook inadvertently blocked advertising created by both of the candidates' campaigns.[15] Biden's campaign claimed that the glitch interrupted about $500,000 worth of ads, while Trump's campaign claimed that the platform was specifically blocking his ads to target the President.[16] In response to this malfunction, Facebook maintained that it encountered "unanticipated issues" while enforcing its new policy. [17]
While Congress attempts to implement change in Big Tech, whether in antitrust, content policies, or privacy, these changes will slowly evolve before lasting solutions are found.[18] These hearings remind us that Congressional hearings are not the endgame, but simply get the ball rolling in terms of awareness.[19] Further, glitches in the Facebook political advertising policy demonstrate that even the tech companies themselves will struggle to control their own platforms.[20]  Ultimately, analysts believe that lasting change will be seen via regulatory action and through the judicial system.[21]
[1] David McCabe and Cecilia Kang, Republicans Focused on Bias Concerns About Platforms, The New York Times (July 29, 2020), https://www.nytimes.com/live/2020/07/29/technology/tech-ceos-hearing-testimony/republicans-focused-on-bias-concerns-about-platforms.
[2] Cecilia Kang and David McCabe, Big Tech Was Their Enemy, Until Partisanship Fractured Battle Plans, The New York Times (Oct. 6, 2020), https://nyti.ms/3d3NJpn.
[3] Id.
[4] Id.
[5] Ari Levy, et al., How Big Tech Became Such a Target on Capitol Hill, CNBC (Oct. 10, 2020), https://www.cnbc.com/2020/10/10/how-big-tech-became-such-a-big-target-on-capitol-hill.html.
[6] Id.
[7] Brian Fung, Analysis: Two Words Describe the Senate's Latest Big Tech hearing: Worthless and Petty, CNN Business (Oct. 28, 2020), https://www.cnn.com/2020/10/28/tech/big-tech-section-230-hearing-analysis/index.html; 47 U.S.C. § 230 (2019).
[8] Lauren Feiner, Big Tech CEO Senate Hearing Ends with Little Discussion on How to Fix Companies' Liability Shield, CNBC (Oct. 28, 2020),https://www.cnbc.com/2020/10/28/facebook-google-and-twitter-ceos-testify-in-congress-over-section-230-live-updates.html.
[9] Id.
[10] Id.
[11] Fung, supra, note 7.
[12] Id.
[13] Michael Cogley, Big Tech's 'Uneven' and Confusing Political Advertising Rules Under Fire, The Telegraph, (Nov. 3, 2020), https://www.telegraph.co.uk/technology/2020/11/03/big-techs-uneven-confusing-political-advertising-rules-fire/.
[14] Id.
[15] Id.
[16] Id.
[17] Id.
[18] See Cecilia Kang and David McCabe, supra, note 2.
[19] Fung, supra, note 7.
[20] See Michael Cogley, supra, note 13.
[21] Id.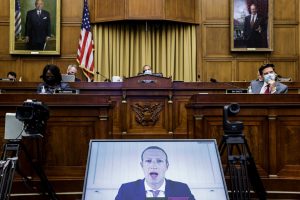 Image Source: https://www.nytimes.com/live/2020/07/29/technology/tech-ceos-hearing-testimony#there-are-many-investigations-into-the-tech-companies-heres-where-they-all-stand