By Trevor Vonu
Virginia is the latest state to legalize online sports gambling, joining the existing 19 states (and Washington D.C.) that have already legalized some form of sports betting. This move followed the Virginia General Assembly's legislative approval of sports gambling last March.[1] The legislation charged the Virginia Lottery with regulatory authority over gambling activity.[2]
On January 21st, the Virginia Lottery granted its first gambling license to FanDuel Sportsbook, allowing residents to make their first sports wagers just in time for Super Bowl LV.[3] The Virginia Lottery will grant, at most, 11 additional licenses to mobile sportsbooks.[4]
Virginia constitutes a large market capable of becoming one of the leaders in the sports betting industry.[5] PlayVirginia estimates that the state will generate more than $13 billion in the first three years of operation.[6] By the third year of operation, analysts predict that the market will produce $5 billion in annual wagers, $400 million in operator revenue, and $60 million in annual state taxes.[7] Now, a once untapped market can become a substantial contributor to private industry and government revenue.
Despite public policy concerns, legislative approval evidences strong fiscal policy. Prior to the authorization of state-licensed sports books, thousands of Virginia residents still made online sports wagers.[8] However, these bets had to be made with international sportsbooks, such as Bovada.[9] By allowing the Virginia Lottery to regulate Sportsbooks within the state, Virginia now has the means to generate billions of revenue in-house and reap the rewards of the tax payments stemming from this activity. The current code applies a 15% tax rate on sports betting revenue.[10] Further, 97.5% of the tax revenue will be used to fund education, infrastructure, and more.[11]
In general, the success of sports gambling is largely predicated on new-age technology. Currently, 80% of all sports wagers are placed online.[12] NeoGames CEO, Moti Mahul, predicts that 90% of all sports wagers will be placed via mobile devices within the next 5-10 years.[13] In essence, the ease of mobile gambling has played a monumental role in the development of the industry. Residents don't have to visit a casino, racetrack, or even make a call. Everything they need is now available at their fingertips.
Social media has also compounded interest in sports gambling. Instagram and Twitter accounts, such as Barstool Sports, helped propel sports gambling into mainstream status.[14] Barstool Sports and accounts like it have managed to make sports gambling a trend among millennial males.[15] In fact, Barstool Sports has become so popular within the sports gambling community that it launched its very own mobile sportsbook in recent months.[16]
There is a massive demand for legal and trustworthy sports gambling apps. Virginia's legislative approval could not have come at a better time. The current social environment has made sports gambling more popular than ever. Rather than discussing sports in general, more and more people are instead discussing the smart pick for the next big game. Like it or not, this is the current environment. Doesn't it make sense for private industry and state governments to take advantage of this surging demand? Not to mention the fact that the Covid-19 pandemic is keeping people isolated and in need of alternative forms of entertainment. Sports gambling from the comfort of the home seems to be a popular choice.
[1] See Matt Bonesteel, Sports betting kicks off in Virginia after state awards permit to FanDuel, Washington  Post (Jan. 21, 2021), https://www.washingtonpost.com/sports/2021/01/21/fanduel-virginia-sports-betting/.
[2] See Pete DeLuca, Online sports betting begins in Virginia, NBC12 (Jan. 22, 2021), https://www.nbc12.com/2021/01/23/online-sports-betting-begins-virginia/.
[3] See Virginia Sports Betting, PlayVirginia, https://www.playvirginia.com/.
[4] See supra note 1.
[5] See Virginia's sports betting to generate over USD 13 B in first three years, Yogonet (Feb 11, 2021), https://www.yogonet.com/international/noticias/2021/02/11/56454-virginias-sports-betting-to-generate-over-usd-13-b-in-first-three-years.
[6] See id.
[7] See Virginia sports gambling industry to generate more than 13 billion in first three years, Chatham Star Tribune (Feb. 9, 2021) https://www.chathamstartribune.com/sports/article_891a19b6-6adf-11eb-897d-e77c2470b368.html.
[8] See GeoComply Data shows Drastic Move From Black Market to Legal Sports Betting, Sportsbook Review (Jan. 26, 2021), https://www.sportsbookreview.com/news/geocomply-data-shows-drastic-move-from-black-market-to-legal-sports-betting/.
[9] See id.
[10] See Matthew Barakat, Online sports betting in Virginia nearing its debut, North State Journal (Dec. 22, 2020), https://nsjonline.com/article/2020/12/online-sports-betting-in-virginia-nearing-its-debut/.
[11] See supra note 2.
[12] See Wayne Parry, Panel: 90% of US sports betting could be online in 5 to 10 years, Associated Press (June 13, 2019).
[13] See id.
[14] See David Purdum, Inside how sports betting went mainstream, ABC News (Nov. 5, 2018), https://abcnews.go.com/Sports/inside-sports-betting-mainstream/story?id=58978446;
[15] See Betting on Legalized Sports Gambling: The Millennial Challenge, Front Office Sports (Jan. 8, 2020), https://frontofficesports.com/sports-gambling-millennials/.
[16] See Katie Kohler, Barstool Makes it 10 Sportsbooks on Tap in PA; Portnoy Calls it "Step 1 of World Domination Plan," PlayPennsylvania (Oct. 30, 2020), https://www.playpennsylvania.com/barstool-makes-ten-sportsbooks-pa/.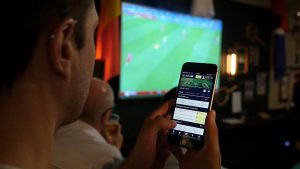 Image Source: https://www.wsj.com/articles/states-weigh-bets-on-mobile-sports-gambling-1531484097