By: Patrick Macher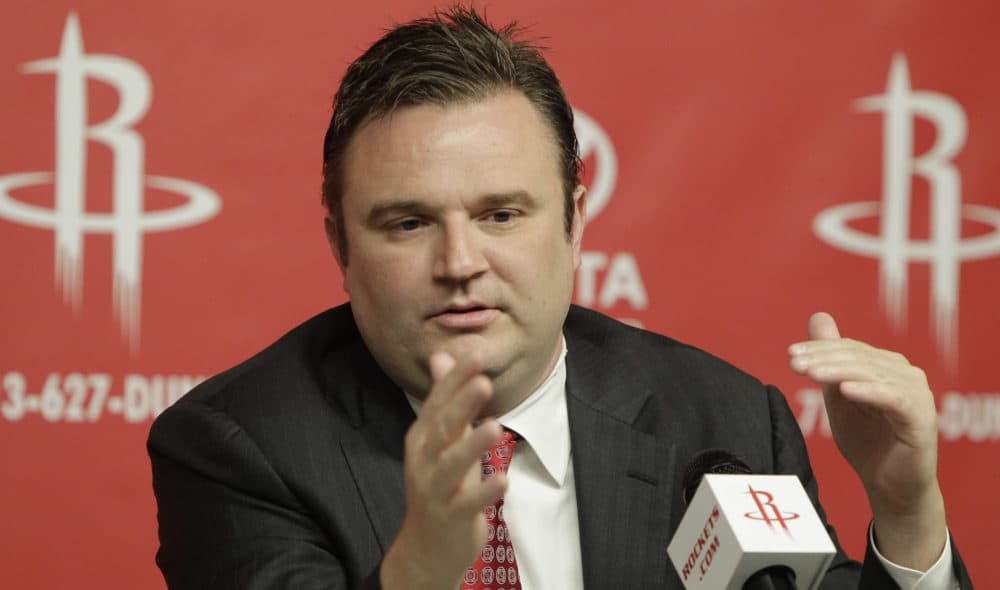 On Friday, October 4, 2019, Daryl Morey, the General Manager of the Houston Rockets, tweeted his support for the Hong Kong protests with the words "Fight for Freedom, stand with Hong Kong." Within days, Morey was met with an unexpected backlash including the Consulate-General of the People's Republic of China in Houston denouncing the comments of Morey, the Chinese Basketball Association suspending all cooperation with the Rockets and the NBA releasing a statement characterizing Morey's tweet as regrettable.[1]
Since Adam Silver became NBA Commissioner in 2014, he has been renowned for his strong support of players and social justice. Silver's commitment to morality was demonstrated early in his career, when he banned Los Angeles Clipper's owner Donald Sterling. Sterling was banned from all NBA activities for his racially charged comments in a privately recorded conversation with his mistress.[2]  Silver continued to demonstrate his support for freedom of speech when Fox News Journalist Laura Ingraham advised Lebron James, one of the NBA's best and most outspoken players, to "shut up and dribble," in response to his comments regarding politics and President Trump.[3]
There are many explanations that could be reasoned as to Adam Silver's fundamentally opposed handling of Lebron's freedom of public speech and the harsh punishment of Donald Sterling, compared to his denouncement of Morey's tweet. However, one reason stands out, conservatively estimated, the NBA generates about $500 million annually from the Chinese market.[4]
In July, a popular media outlet, China's Tencent, signed a five-year, $1.5 billion deal to be the leagues exclusive online digital partner in China. Sports Business Journal valued the NBA's business arm in China, NBA China, at $5 billion. Beyond that, players and American brands are invested in the large Chinese market such as Stephen Curry with Under Armour and Lebron James with Nike. Both of which have formerly done annual tours on the Chinese markets in the NBA offseason.[5]
China has around 1.4 billion people, compared to the nearly 327 million in the United States. The NBA looks to the Chinese market as a major source of growth in the near future. However, the NBA has since felt significant economic effects of Morey's 33-character tweet.[6]
CCTV, the NBA's primary broadcasting partner and Tencent, the primary online partner, have suspended all streaming of NBA games. Sponsor Li-Ning suspended its sponsorship of the Houston Rockets. Houston Rocket's merchandise, a previously popular commodity due to the Hall-of-Fame career of China's Yao Ming, has since disappeared off of many shelves in Hong Kong sporting goods stores.[7]
Daryl Morey did what millions of Americans do every day. Morey voiced his opinion over a social media platform with no expectation of the repercussions to come. Morey was exercising the right to freedom of speech but had failed to exercise caution.  Hours later, Morey faced denouncement of his tweet from an international embassy and a public reprimand from his bosses' boss.
Lawmakers from both parties criticized the NBA and the Rocket's lack of support for Daryl Morey's pro-democracy message.[8] After an outpouring of American support for Morey and a backlash of anger towards the NBA, Commissioner Adam Silver clarified that Morey's tweet was "regrettable" not because of the content, but because it upset the NBA's Chinese supporters.[9]
Whether or not you agree with Morey's tweet is a personal and political question. The law protects Morey's right to express his opinion on the platform of his choosing. However, the economy represents the ultimate equalizer. The NBA, the Houston Rockets and Daryl Morey have suffered significant financial losses from Morey's 33-character tweet. All three parties will "rebound," but the fiasco demonstrates the significant impact
[1] See Matthew Yglesias, The Raging Controversy Over the NBA, China, and the Hong Kong protests, explained, Vox (Oct. 7, 2019) https://www.vox.com/2019/10/7/20902700/daryl-morey-tweet-china-nba-hong-kong
[2] See Mike Wise, Chief of America's Blackest League Talks About Race and Social Justice, The Undefeated (Dec. 25, 2019) https://theundefeated.com/features/chief-of-americas-blackest-league-talks-about-race-and-social-justice-nba-adam-silver/
[3] See Emily Sullivan, Laura Ingraham Told Lebron James to Shut Up and Dribble; He Went to the Hoop, The Two-Way (Feb. 19, 2018) https://www.npr.org/sections/thetwo-way/2018/02/19/587097707/laura-ingraham-told-lebron-james-to-shutup-and-dribble-he-went-to-the-hoop
[4] See Jeff Zillgitt & Mark Medina, An Impasse Over Pro-Hong Kong Tweet Simmer, What's at Stake for the NBA in China?, Usa Today (Oct. 9, 2019) https://www.usatoday.com/story/sports/nba/2019/10/09/nba-china-hong-kong-whats-at-stake/3912447002/
[5] See id.
[6] See Michael McCann, Analyzing the Fallout Between the NBA and China After Daryl Morey's Tweet, Sports Illustrated (Oct. 7, 2019)
[7] See Isabel Togoh, The Fallout from Daryl Morey's Pro-Hong Kong Tweet is Now a Very Expensive Problem for the NBA, Forbes (Oct. 8, 2019) https://www.forbes.com/sites/isabeltogoh/2019/10/08/the-fallout-from-daryl-moreys-pro-hong-kong-tweet-is-now-a-very-expensive-problem-for-the-nba/#1c3a35141c8b
[8] See Tyler Olson, Lawmakers Dunk on NBA for 'Shamefully Retreating' After Rockets GM's China Criticism, Fox News (Oct. 7, 2019) https://www.foxnews.com/politics/lawmakers-dunk-on-nba-china-over-rockets-gm-tweet
[9] Chelsea Howard, Adam Silver Clarifies Comments on Daryl Morey's Controversial Tweet, Sporting News (Oct. 10, 2019) https://www.sportingnews.com/us/nba/news/adam-silver-daryl-morey-had-right-to-tweet-china-tv-wont-carry-nba-games/18n3dxjud9ngf1eypvvoe1t0z4
image source: https://www.wbur.org/bostonomix/2019/10/10/daryl-morey-china-hong-kong-rockets-mit-boston